CDR Compliance: API Security, OAuth, and Consumer Consent
To comply with CDR requirements, financial institutions (data holders) need to:
If you need to learn more about CDR in general, see the Consumer Data Right Overview article.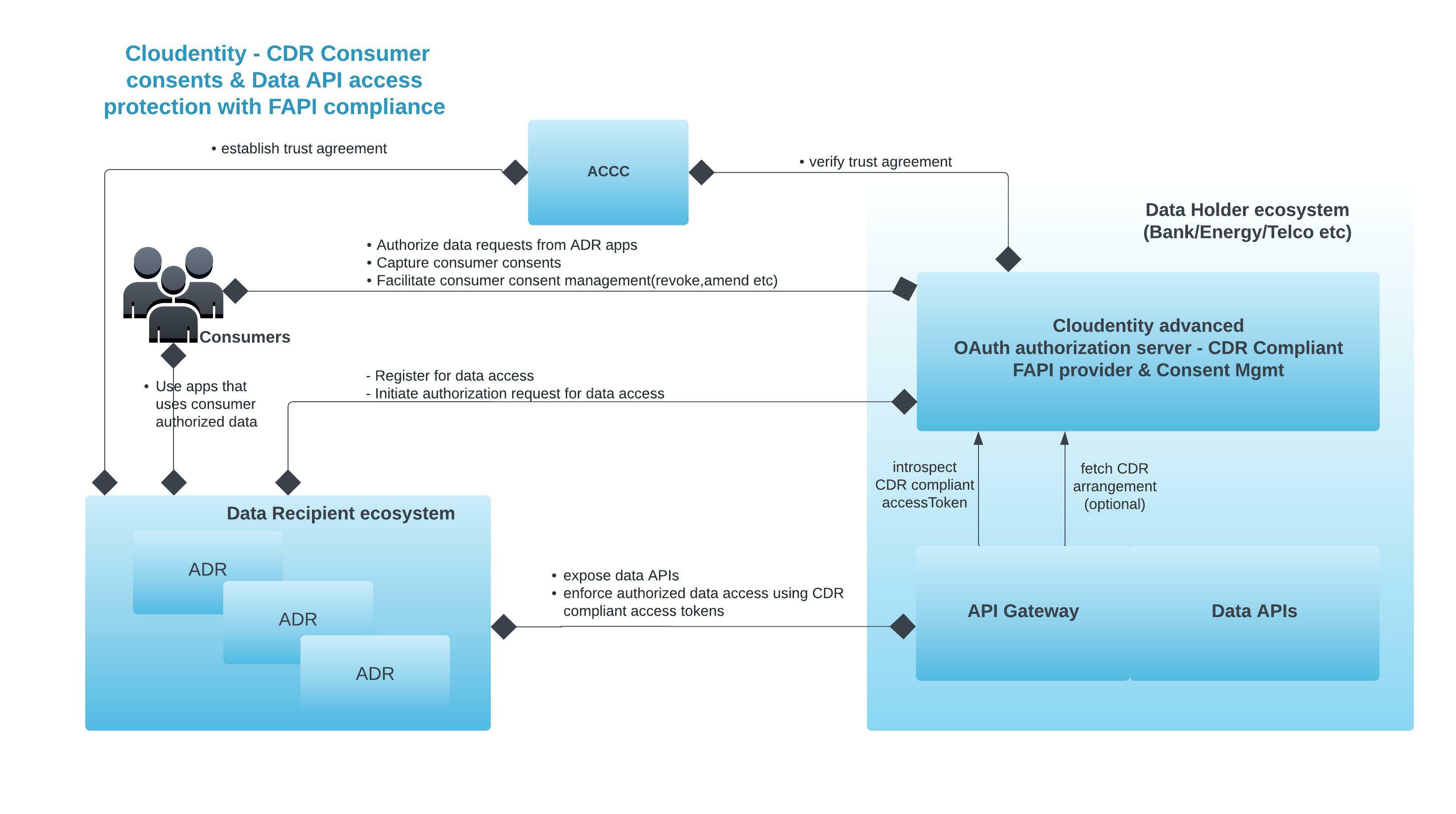 Accelerate CDR Compliance with Cloudentity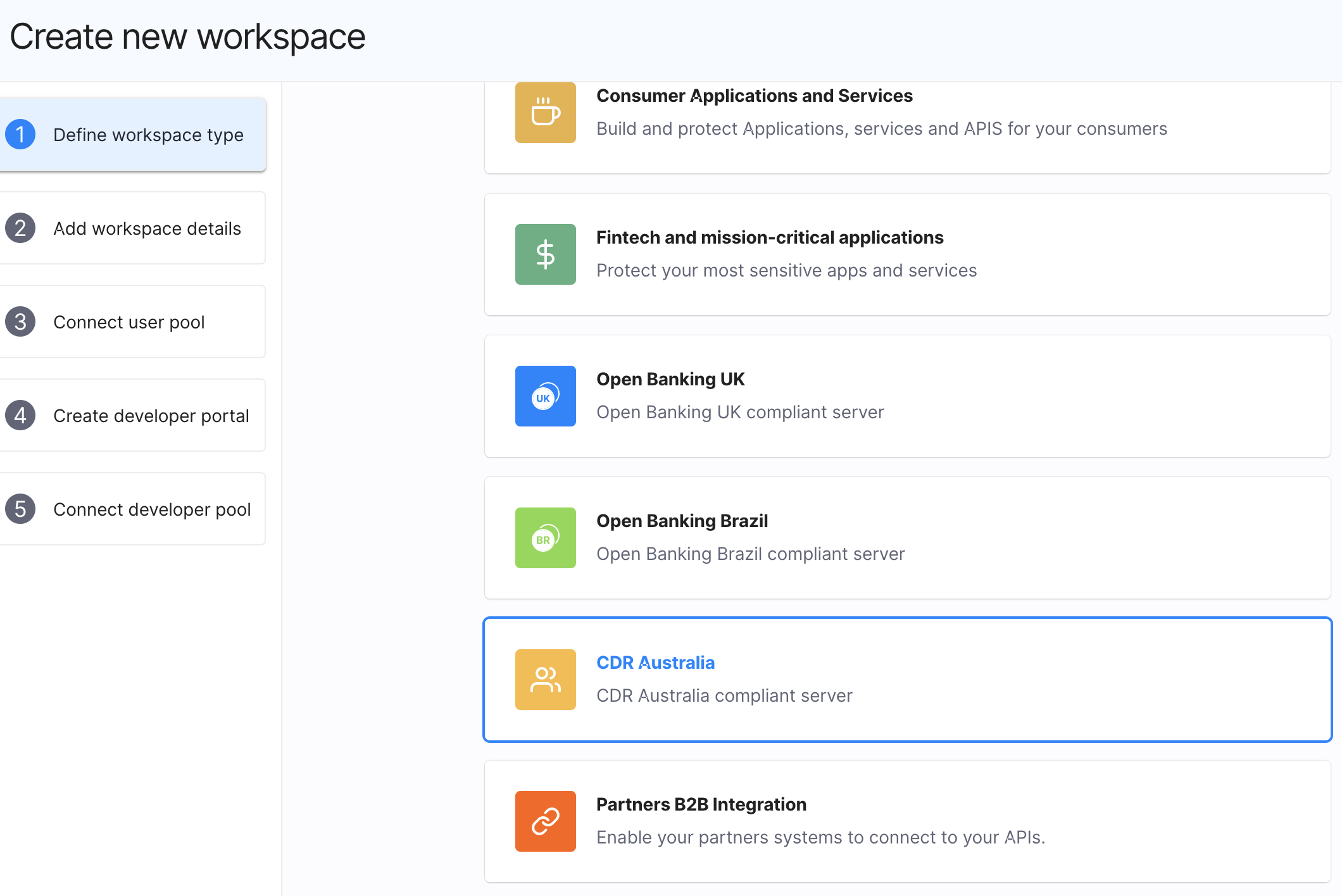 Security Profile Compliance
Cloudentity comes with instantly applicable, jurisdiction-specific, preconfigured Open Finance profiles that will make your solution instantly compliant in the area of security profile. The key elements that a profile encloses are:
Consent Profile Compliance
Out-of-the-box, Cloudentity delivers consent APIs and consent models that support all customer consent flows (journeys).
Support for All CDR Customer Journeys
Open Finance Sandbox
Cloudentity delivers Open Sourced Open Banking Quickstart GitHub project that you can use when creating your applications for a better understanding of how the Open Banking data sharing flow works and how you can integrate with Cloudentity platform.
The Open Banking Quickstart project simulates an Open Banking ecosystem that consists of data recipient's fintech application (Financroo) and financial institution (Go Bank). Go Bank exposes OB Data APIs and utilizes Cloudentity for user consent and authorization to enable access to APIs to fintech applications. The quickstart lets emulate read and read-write Open Banking scenarios that show how Cloudentity supports these flows. In particular, it lets understand the concept of sample consent application that renders custom fine-grained consent page that becomes part of the OAuth flow.
Sounds interesting? Spin up a Docker container with your own sandbox: Open Banking Quickstart
Bring Your Own Identity Provider
Bring Your Own Identity (BYOID) is a philosophy that Cloudentity strongly believes in. Cloudentity allows you to integrate the platform with your existing identity sources using open standards such as OpenID Connect and SAML.
To make it easier for you to integrate solutions, Cloudentity has a vast number of built-in Identity Connectors for major Identity Sources that allow you to quickly connect your Identity Source to the platform. If your Identity Source does not have a dedicated connector in Cloudentity, but shares identity information using either OIDC or SAML standard, you can use a generic OIDC or SAML connector instead. Most of the provided out of the box connectors comply with the OIDC standard, but you can also use the SAML generic connector to integrate your identity source in a SAML-compliant way.
Pick Your Style - SaaS vs non SaaS
Cloudentity offers a higly available SaaS region in North America. If you want to host the solution yourself, we offer the same binary and tools that we use to run our SaaS infrastructure to your DevOps team. Your team can run our high scale solution on the infrastructure of your choice. Read about all the offered deployment models here
Why Cloudentity and Not Any Different CIAM Platform
The solution and capabilities offered by Cloudentity platform are very different compared to other platforms or authorization servers and it is important to understand the difference in approaches that we undertake to ensure a robust specification-compliant solution for your consumption.
Ecosystem-specific profiles offered by Cloudentity include numerous distinct configurations of internal OAuth authorization server and other components that assure our customers about up-to-date compliance in area of security and consent. API security providers and authorization servers in general do not come with such profiles and treat consent APIs as part of the solution that is out of their scope which often requires extra plugins or other code and is not treated as a main stream features. Cloudentity is tailored to each and every profile and we make sure to keep up the standards and treat them as primary features.
Use of Open Banking profiles saves hours of engineering work required for configuration, testing, and development of consent APIs in case of building the solution with use of a general purpose API security provider or authorization server.
CDR Integration guides
Feels like diving deep into all the CDR specifics and integrations? We have detailed guides to help you navigate the CDR journey with ease.
Jumpstart CDR Journey
Ready to get started? Do not wait and check out our Get OAuth, Consents, and API Security for Open Finance quickstart article!